Affiliate Disclosure – Some links on this page are affiliate links and we may receive a small commission if subscriptions or purchases are made off them.
One of the first things to do when setting up a website is to pick a good host. This means going for a large, reputable hosting company with good, reliable servers. Your hosting needs to be reliable for your site to load fast.
There are several major hosting companies available who will all do a decent job. We will go list some of the more popular ones. It doesn't really matter which one you pick, as long as they are reliable and load your pages fast, as slow loading pages will send visitors away from your site.
Let's look at some of the main ones below. All hosts offer all the things you need to get started, such as a free SSL green padlock certificate to make your site secure, and a free one click install of WordPress with the package so you can get started building your website, as well as 24/7 support.
Hostgator
Cheapest Provider – Web Hosting from just $3/month when purchased for 36 months – single domain
$4 per month for unlimited domains
This site hosted with them – good service.
Superb 24/7 Live Chat customer service
Click on Get Started then select Hatchling or Baby Plan
Click here to check Hostgator packages
Click Here for a Quick Start tutorial on getting set up with Hostgator. Click Here for a more in depth tutorial on getting started with Hostgator, including repointing domins you already own and getting the website set up.
Bluehost
Recommended starter host by high profile internet marketers like Income School and Freedom Influencer
$4 per month for 1 domain; $6 per month for unlimited domains
Free SSL and Domain Transfers
Click on the Get Started button then choose between Basic and Plus packages depending on how main sites you want.
Click here to check Bluehost packages
Click Here for a Quick Start guide for getting set up with Bluehost.
A2 Hosting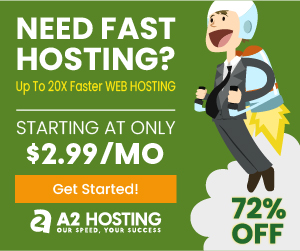 Came out fastest of all four in the speed test video embedded below.
Around $4 per month for one site; $5 per month for unlimited sites
Free domain transfers and SSL
Click on Shared Hosting, then Compare Packages and choose between Lite and Swift packages
Click here to check A2 Hosting packages
Click Here for a Quick Start guide on getting set up with A2 Hosting
Siteground
Came close second to A2 Hosting in speed test video below
Around $4 per month for single domain; $7 per month for unlimited domains
Click on Web Hosting option on left hand side then choosen between StartUp or Growbig packages depending on how many sites you want.
Click here to check Siteground packages
Click Here for a Quick Start guide on getting set up with Siteground.
Here is Alex from WP Eagle testing out some of the different hosts for speed and other factors.
The Process For Getting Hosting
Visit one of the hosting providers linked above – Hostgator, Bluehost, A2 Hosting or Siteground.
Click on Get Started or Compare Packages
To start off with Shared/Web Hosting is normally fine for new sites. More expensive options are for websites with lots of traffic.
Select the package you need depending on how many sites you want to have hosted. The left hand side package usually includes just one domain; the one in the middle includes multiple domains. You can always upgrade later if you decide to set up more sites.
Select how long you want to purchase the hosting for. The monthly price is much cheaper the longer you can buy it for, preferably 3 years if possible. The monthly cost is higher if you buy for shorter periods.
You will also have the option to connect up the domain you already own with the hosting account you are about to set up, or else purchase a domain with your hosting (many people recommend keeping domains and hosting separate). See our Domains page for the process of buying a domain first.
Tick or untick any extras you want with your hosting. Most of the time they are not strictly needed for beginners. WordPress is very secure already if you are installing it and SSL can be enabled for free as well. You may want a professional email to go with your hosting.
Enter your personal and payment details and complete the purchase.
After a short while you will receive emails with your Control Panel logins to manage your hosting and install WordPress.
Go the the cPanel login page and enter the username and password supplied in the email. You are now ready to manage your hosting account.
If you want to install WordPress, click on the Build a WordPress Website button (or similar) and you will be taken through the process of installing WordPress. See also the video below.
The first 20 minutes of the video below is an excellent beginners guide to setting up a brand new hosting account, connecting a domain and installing WordPress for beginners. He does it with Hostgator but the process is largely the same for all major hosts.
Getting Started With Hostgator
For people new to this field, there is no need to worry about the expensive dedicated or VPS hosting packages at first. Shared or Web hosting is fine when just starting a website and you only need to worry about upgrading once you are at least a year in and you have significant traffic in the tens of thousands per month.
For most bloggers starting out it is simply a matter of going for simple shared/web hosting and then usually choosing between the entry level left hand side package (one domain only) or the middle package (unlimited domains).
All other types of hosting and package options come later down the road when your blogs are established with serious traffic. You can easily upgrade to more advanced packages with better support and bandwidth capacity as your website(s) grow.